One of the things that struck me in Thailand was the way transportation culture can so strongly affect all aspects of life.
In the US we're completely defined by car culture. As much as people love to talk about walkability and urban reclamation and so on, our cities are built around cars, our lifestyles are designed around cars; if you can manage to function without a car in the US, you're still living in car culture. What that means is everything is very spread apart, the streets are wide for our huge cars, there aren't lots of little markets and shops everywhere that provide for your basic needs near your home - you might have to commute miles to get to a big box to just buy something like a broom. Any place where lots of people come together has to have tons of parking, which takes up lots of space and creates separation.
Thailand is very much in "scooter culture". That means the roads can be narrow and windy, scooters integrate better with bikes and pedestrians, and perhaps most importantly - you don't need a ton of parking. This struck me powerfully when we in Trang with this crazy hotel room that was all glass and stuck out right over the night market : here were hundreds of people shopping in a super dense market, and there's no parking lot. Just a row of scooters along the street. In the US, the closest equivalent is a shopping mall, which requires a huge parking lot and is thus isolated and separated from the heart of the city.
On a related note, I have a rental car now since my car was totalled and I haven't bought a new one yet. I got a Nissan Versa :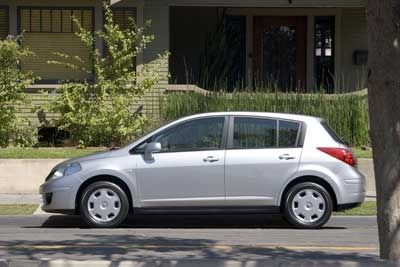 It's pretty fucking great. I've never driven one of these new style hatches before that are like a big bubble construction. It feels like the car is 99% interior empty space with just a tiny shell around it. It's incredibly roomy inside - it has more room inside than a BMW 3 series for example. I also love the feeling that there's basically no hood sticking out and even no door thickness around me, it means I can swerve it around and through tiny holes and have a really good intuition for where the car is (the wheels are way out at the edges of the body and the wheelbase is quite short).
It also feels pretty peppy, presumably because it's nice and light (much better than the Toyota Avalon I had before for example). In fact the only thing that really bugs me about it is the automatic transmission, which seems to always be upshifting right when I want power. (automatic transmissions are just balls; I know the new fancy 7 & 8 speed dual-clutch automatics in german cars are not bad, but even then I can feel them cause weird blips in power response at unexpected moments which I fucking despise; down with all automatic systems!).
The thing that really strikes me about the Versa (and all these similar light bubbles, like the Honda Fit) is just how awesome they could be if our roads weren't full of giant trucks and SUVs and such. If all our cars had top speeds of like 80 mph and all were small light cars like this, they could have a lot less crash protection, be lighter, maybe even be made of carbon fiber. The result would be a very roomy, tiny car that weighed maybe 1500 pounds, had a 1L or smaller engine, and got 50+ mpg and cost under $10k, and yet were roomy and peppy and fun to drive. (I guess in Europe you have things like the Renault Twingo that are pretty close to this).
It raises the question : why would you buy anything else? (other than a little bubble car). So far as I can tell the only reason is vanity (or, you know, if you enjoy cars and it's an indulgence). If you are a straight man in america who drives a little hatch, you will mocked by little girls and laughed at by your momma. Some people are in denial : "There's just something cool about driving a fast hatchback" . No, no, there's nothing cool about a fast hatchback. Unless you're female, gay, asian, or a chav, you can't drive a hatchback without shame.
Say for example you're comparing a Honda Civic vs. a Honda Fit. The Fit has much more interior room, and yet is smaller and lighter. The big draw of the Civic over the Fit is just that your friends won't laugh at you when you pull up in it (yeah and it's a bit more powerful).
This rental car is also only $150/week which is amazingly low. That's only $7800 a year. That seems like a lot for a car for a year, but it includes all registration, maintenance, repairs, and also time cost of having to deal with buying and servicing a car that you own.
There's a weird thing that happens with a car as cheap as the Versa. If you get a Versa for $10k or even $15k , depreciation cost is only about $1-$2k a year. That's way less than the cost to run it (insurance, gas, service, etc.). I love the autos.yahoo "total price" feature; if you look at the Versa total price , depreciation is only about 25% of cost , while for luxury cars like the BMW 5 series it's more like 40%