Step 1 : get bike in the mail and take it apart :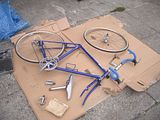 Step 2 : realize you have to take it to a shop to get the headset changed; get back bike, realize you don't have the tools to pull the bottom bracket, so take it to another shop. Clean and degrease. Sand off rust. Spray with frame saver (rust proofer). Clean again to remove excess frame saver. Touch up paint chips. Wax. All clean and naked :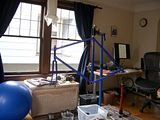 Step 3 : wait for more parts to come in the mail. Realize some of them are wrong and have to send them back. Realize you don't have the tools to put on the new style bottom bracket (*), so buy those. Finally once everything is in order, you can put the parts together (this step is actually really easy) :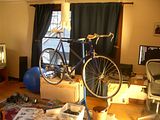 It looks like a finished bike now, but it has no cables on it yet, which is the hardest part (that's when you do all the adjusting). I also realized that I started wrapping the handlebar without the cable under it, so I have to redo that :( I was kind of thinking of running the brake cables in the old fashioned external big loop style, but after seeing the bike put together I don't think that's a good idea, and it doesn't work with the pursuit levers anyway.
(*) the new Hollowtech II bottom bracket is really strange. It requires yet another whole new set of custom tools (sigh). 99% of the difficulty with working on bikes is every generation is different and requires different tools. The new bottom bracket is very strange, it's not an axle supported by ball bearings, instead it's just a cylinder stuck into a larger cylinder. I guess the larger cylinder actually has a ring of bearings in it so it winds up being the same thing.
Also, you can't really see it in the shitty pictures I took, but the bike has a Shimano Ultegra Stem with hidden binder bolt from Peter White Cycles . This is just about the sexiest piece of bike hardware I've ever seen in my life.